January 24th
Dave Doyle started this morning's meeting (January 17, 2019) by asking Mike Renberg, the club's most experienced member in flag salute leadership, to lead everyone in the salute. Mike then provide everyone with an opening prayer.
Alan Uyemura reported on the Chocolicious 5/15K run which will be held Saturday, February 16th at Woodward Park. He urged all members to solicit sponsors to help make this fundraiser a success.
Tim Conboy reported on the RATA prom, which will be held on May 3rd. RATA High School has invited all members to their open house, which will be held on February 8th between noon and 3 p.m.
President Dave also reminded the members of the upcoming Board meeting on Wednesday, January 23rd at his office. All members are invited.
Elva Carlos introduced the Cambridge High School students of the month, Gisselle Lopez and Sunny Voeuth. The staff member of the month was Mr. Yia Xiong. In addition to receiving a certificate of appreciation, the students received a $40 gift card to Target.
Mike Renberg introduced Eric de Jong, general manager for Ooooby (Out of our own backyards). Ooooby is owned and operated by Food Commons Fresno, a nonprofit corporation whose mission is the sale and distribution of organic foods, purchased locally, to individuals and companies throughout the valley. Eric discussed the history of the company, the benefits of purchasing and eating organic food and the company's mission. The company distributes approximately 750 boxes weekly to individuals and companies throughout the valley.
Next week Tim Conboy will introduce Dr. Tim Woods, Dean of Instruction, Business Division, Fresno City College as our featured speaker. He will be speaking on major initiatives in the Community College system.
Our Greeters will be Wayne Thomas and Alan Uyemura. Our thought for the day will come from Mike Renberg.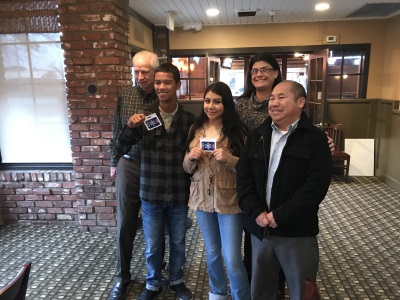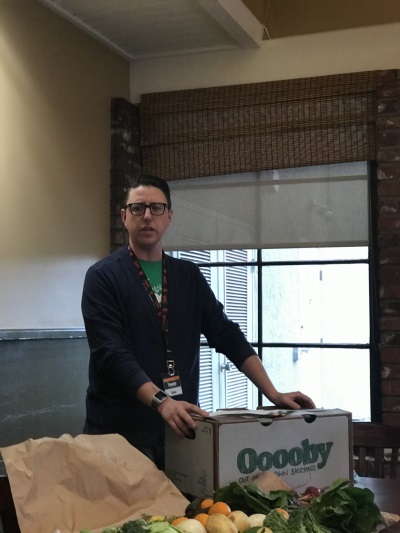 January 17th
This morning (meeting of January 10, 2019) the members welcomed back our president Dave Doyle after what seemed to be a long absence.
Dave started the meeting by asking Joe Villareal to do triple duty; lead the flag salute, give the members their thought for the day and then do "happy bucks."
Dave related his missed opportunity to win three cars on the television game show "the Price is Right" over the holidays. His opportunity was aired on December 24th.
Alan Uyemura reported on the Chocolate Run and the need for more sponsors. He also stated that the club will hold a Community Service meeting immediately following next week's club meeting.
A club board meeting will be held at Dave Doyle's office on Wednesday, January 23rd beginning at 5:30 p.m. All are invited.
Dave reported that todays featured speaker, Ms. Debra Rush from Breaking the Chains will be unable to attend this mornings meeting.
Dave also reported that Dennis Falk will be on a leave of absence from the club, possibly for several months.
In lieu of our speaker, Dave discussed several topics including the study of individuals who were imprisoned during the civil war and whose offspring had a shorter life span as a result, the opioid crisis in Indiana and a recent trial where residents sued a dairy for fly infestation.
Tim Conboy reported on the club's donation of toys to FIRM during Christmas and how appreciative they were of the donation.
Next week, January 17th, the Cambridge students will be in the house. Our guest speaker will be introduced by Mike Renberg. Our greeters will be Larry Hopper and Mike Renberg and our thought for the day will come from Hy Wood.